This is #1 Tourist attraction in Kanchanaburi, Thailand on Tripadvisor. With 652 reviews it is rated 5 stars by reviewers. We are proud of this museum has a national historic places and offer the best site for travel in Thailand.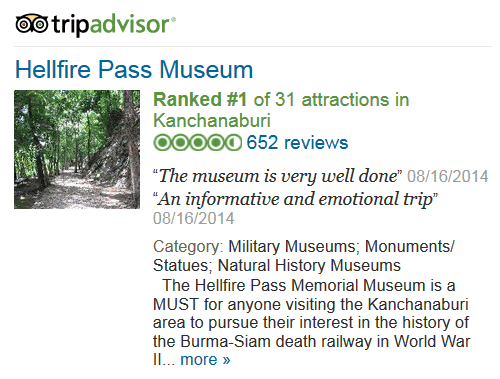 Hintok River Camp is at the shore of river Kwai under this Hintok River Valley – HellFire Pass. This is located in Sai Yok District of Kanchanaburi at River Kwai Noi. The Best safari Tented Camping resorts is located beneath the historic museum. Also, Popular known as Camp Hotel in Kanchanaburi,River Kwai.
The unique Glamping site of Thailand has much more to offer then just an accommodation.
Hellfire Pass trekking trail
Hellfire Pass Memorial Museum
Mountain Biking
Elephant Riding
Lawa Cave
Waterfalls
Sun bathing
Boat trips and much more…
See the river kwai, kanchanaburi tours of your interest. Click Here.