Hintok River Camp: Glamping in Thailand
Author : ONTHEWAYTOTV.COM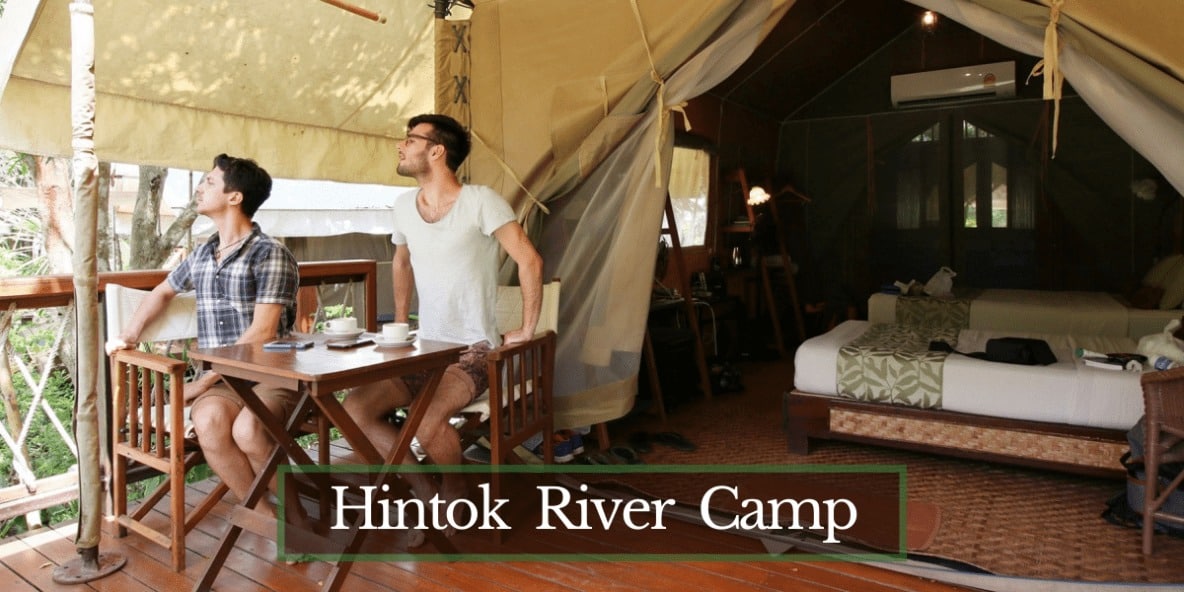 My adventure with glamping began last month in Kanchanaburi (Thailand), as Hintok River Camp at Hellfire Pass was the first glamping spot I ever stayed at.
The truth is, I wasn't fully aware of what glamping was only until recently.
'I'm going glamping with my sister, I really can't wait,' a colleague from work said enthusiastically to me a couple of months earlier.
'You're going where, sorry?' I asked confused.
'Glamping. Oh my God, it's like camping, but better.'
And I really had no idea. But, oh, my, it is so much better.
Glamping in the historical setting of River Kwai, Kanchanaburi
When I saw photos from Hintok River Camp on their social media, I knew it was a place I had to check out.
Not only I've never been camping in Thailand, but also I couldn't imagine such a well equipped, bad-ass tent that has wifi, aircon, hot water and all the other amenities of the modern world.
As some of you know, we were a part of a tour going to Kanchanaburi to stay at a famous floatel on River Kwai. After two nights there, we were transported by a long-tail boat even further up the River Kwai to reach Hintok River Camp at Hellfire Pass.
Similarly to the Jungle Raft Hotel, Hintok River Camp is situated off the beaten track and is quite secluded from the rest of the world. However, it is on the mainland and it's much easier there to leave the hotel and explore the area on your own than on the jungle rafts.
Glamping? Tent standards!
The tents you stay in at Hintok River Camp are very unlike any other tents I've ever seen.
Our tent had two comfortable beds inside, two lamps, and a bedside table on one side. The other side of the tent featured a fridge, another two lamps, a fan, a mirrored dresser, a chest for your belongings, a kettle with cups and complimentary hot drinks, and a racking with coat hangers. All in all – everything you might need. Everything that most standard hotels should be offering, but don't.
Glamping at Hintok River Camp means comfort and elegance. Not only it is a place that offers you all the amenities I just mentioned but does it also with a sense of style. The furniture and accessories create an atmosphere that compliments the surroundings. You can still fall asleep listening to the sounds of the jungle just a few meters away from your tent. But in airconditioning, electricity and Internet access.
A lot of people don't like camping because of the shared bathroom aspect. Sometimes its the lack of privacy or the lack of cleanliness, but this is not an issue when glamping at Hintok River Camp!
The private bathroom for each and every tent is separated from the bedroom by a mosquito net and a zipper door same as the entrance to the tent. The sink area is very spacious and modern, same as the shower and toilet. Of course, hot water is available at all times, so don't you worry! Although with the hot Thai weather you'll be mostly using cold water anyway!
Each room also provides a little porch in the front. Two sunbeds, two chairs, and a little table. The perfect spot to have a cup of coffee in the morning while observing the neighboring tents. Dreamy.
The Glamping Site at Hintok River Camp
The whole area of the Hintok River Camp at Hellfire Pass is absolutely gorgeous. The campsite (or if you prefer – glampsite) is full of wonderful tropical trees (mango and cashew nut to name just two). The grass on the site is very well kept and beautifully green and the resort has even their own natural spring!
The natural spring is located on a lower level on the way to the pier. It makes for an awesome relaxing spot and it feels very private as the area is secluded within trees and rocks. You will definitely spend some time there to chill and cool down while looking at the gorgeous River Kwai landscape.
The reception area of the resort is actually also a cafe with a small bar. You can order yourself a drink and sit at one of the tables overlooking the river. The area has a very good wifi connection, so you could also get some work done if you need to.
Dinner time at Hintok River Camp
Every evening dinner is served outdoors in the middle of the campsite by the bonfire. Trees around are decorated with fairy lights and the tables are set up right in the midst of torches and lanterns decorating the whole area.
The food was our favourite part because it beat everything else we ate during our trip to Thailand. The selection of food was beyond our comprehension.
You could choose some of the most amazing Thai delicacies such as cashew nut chicken, pad thai or various curries, you could order some grilled meats or vegetables or you could opt for something western such as fried chicken, roast potatoes and more.
Of course, there was fruit and desserts for after dinner and we were extremely disappointed with only one thing. That we couldn't eat everything that was available, because it was simply too much.
We both thought this wasn't even something you could simply call dinner. This was a feast. In such a pleasant setting among nature and so many other travellers from all over the world, it felt like an experience rather than just a regular meal.
Bike Trekking around Hellfire Pass, Kanchanaburi
We signed up for a bike trekking trip early in the morning the next day.
Initially, it was meant to happen the day of our arrival, but one of the staff recommended we go in the morning due to the weather. And she was certainly right because even at 6 am in the morning it was quite warm for biking. I couldn't imagine doing it in the afternoon in 40-degree temperature.
Firstly, we were really surprised that the resort actually provided mountain bikes. Although it was hard to get up so early, we were excited to explore the area.
The guide showed us around the area of Hintok River Camp and took us to a few interesting local places around. His knowledge helped us understand more about Thai people and culture as well as Buddhist life and customs. He shared with us some stories about his time as a monk.
We went over a suspension bridge with some breathtaking views to reach a Buddhist temple. The whole area looked wonderful so early in the morning. We couldn't stop taking photos! Thailand again proved that it's most beautiful either upon sunset or right after sunrise.
The colorful statues of Buddhas really impressed everyone on the tour. Our guide explained the meaning of each of the Buddhas, so it was nice to get some context.
Hintok River Camp Tour
We went to Hintok River Camp only for 1 night as a part of our tour on the River Kwai. Two previous nights we spent at River Kwai Jungle Rafts Floating Hotel also owned by Serenata Hotels. We would definitely recommend going to Hintok River Camp for 2 nights, though. Just to have more time to explore the area and also visit the Hellfire Pass Memorial.
Staying at Hintok River Camp's glamping site was a great experience. It's definitely more memorable than most generic hotels in Kanchanaburi so if you're planning on visiting this province, don't hesitate to consider Hintok. Their website Hintok River Camp @ Hellfire Pass features a couple of different tours that you can sign up for depending on what you're looking for with this experience. Some of the tours focus on historical aspects of Kanchanaburi. Others are aimed at more active travelers. Everyone can find something suitable for themselves.
Essential information:
Hintok River Camp @ Hellfire Pass
Address: 109 Moo 9 Ban Wang Khamen, Tambon Thasao, Saiyok, Kanchanaburi 70150, Thailand
Website: https://www.hintokrivercamp.com/
Telephone number: +66 (2) 642 5497 (Bangkok office) or +66(0) 81 754 3898 (hotel)
Find more details on tours with Hintok River Camp on this webpage.
Hintok River Camp on Agoda and Booking.com
Have you ever been glamping? Let us know in the comments how your tent compares to the one at Hintok!
Like it? Pin it!
This is a sponsored post as our stay at Hintok River Camp was complimentary. However, all opinions are our own.